EDUCATOR'S
DAY
EDUCATOR'S
DAY
When people think about games and education mostly gamification and learning games comes to mind. Who delves deeper into possibilities of modern board games in education quickly learns that there is so much more to this area. At the Educator's Day experts, researchers, and practitioners from all over the world give insights into the multitude of games and education. 
EDUCATOR'S DAY TAKES PLACE FRIDAY, OCTOBER 6TH 2023 FROM 10:30 TO 5:30 PM.
In various presentations, discussions, and practical sessions they show that board games are driving change in education and society, talk about the potential of games to become a core medium for informal and formal teaching contexts and present newest studies and projects. 

PROGRAM FOR EDUCATORS
The Educator's Day is specially for pedagogues, teachers, educators, and all people working or studying in education. You can register for taking part and visit the program in room Rheinland. Additionally, exhibitors of SPIEL Essen 23 will present themselves and their games especially fitting for teaching and education in the adjacent foyer to you. As participants you can also visit the new releases show at SPIEL. 
Under this link you can register online. Please provide confirmation of your educational profession.
Open to all with live stream
We know that the presentations and panels of the Educator's Days are also interesting for other visitors of SPIEL Essen or people that cannot be in Essen. Therefor we will stream all programs live on our YouTube channel. This way everyone can take part or watch their favorite content after the show.
10:30-12:30
ASMODEE RESEARCH –
INSIGHTS INTO THREE PROJECTS ON BENEFITS OF BOARD GAMES ON EDUCATION (ENGLISH)
Believing that games are more than just entertainment, Asmodee Research investigates and promotes the benefits of board games to society, focusing on three major areas: academic research, health, and education. At Educator's Day, Asmodee Research will present three projects to share knowledge about the benefits of board games for education and creativity:

SPARK ACADEMY – From scientific research to practice: how to effectively bring games into education

Recent studies show the remarkable effects of board games as educational tools. Going beyond traditional boundaries, Spark Academy is a transformative initiative dedicated to supporting professionals bringing board games into education.
SPEAKER

Sarah Favaron is an expert in cultural products for young people. After starting her career in publishing, Sarah joined Asmodee Group in 2020. She was appointed Brand Manager for Access+ (a range of adapted board games for people living with cognitive impairments) in 2021 and she's now also in charge of the development of the Spark Academy program since the launch in 2023.
GAME IN LAB – The Metacogite educational program: Enhancing executive functioning through a metacognitive approach while playing at school
Can we enhance our executive functioning through a metacognitive approach while playing at school to improve learning? We will present the findings of an experimental study that spanned an entire school year and involved 400 fourth-grade participants aiming to evaluate the impact of a pedagogical program on the metacognitive, executive, and academic competencies of 9/10-year-old students. The Metagame program endeavors to foster students' awareness of their brain and executive functioning by employing a metacognitive approach that uses board games as a medium for classroom learning.
SPEAKERS
Céline Lanoë is an assistant professor of Educational Psychology at the National Institute for Teacher Education of Normandy Caen at the University of Caen Normandy. Her research focuses on the relationships between executive functions, metacognition, and academic learning. She also develops psycho-pedagogical applications for all students, with an inclusive approach.
Amélie Lubin is an assistant professor of Educational Psychology at the University of Caen Normandy. Her research focuses on the development of mathematical cognition in children and its connection to executive functions and metacognition. She conducts applied studies to evaluate the effects of metacognitive programs on academic learning.
HOMO CREATIVUS – Gameplay and Creativity: an educational opportunity
This presentation looks at the connections between board games and creativity.  Creativity refers to the ability to produce new ideas that are original and valuable in their context. Board games are a leisure activity, a source of fun but they can also help people develop certain abilities.  An overview of the main ways that board games can support and foster creative thinking is presented. For this studies were conducted to test the impact of playing a range of games on people's creative thinking, which's results will be discussed.
SPEAKERS
Todd Lubart, PHD Yale University, is a professor of psychology at University Paris Cité. Former director of an applied psychology research laboratory, coordinator of several grants and contracts, he has more than 200 publications in articles, books and psychological tests focusing on creativity.  He directs the Research Chair "Homo Creativus" (Fondation Université Paris Cité), supported by Asmodee. Todd Lubart is president of ISSCI (the International Society for the Study of Creativity and Innovation, issci.online). 
Maxence Mercier is a doctoral student working on board games and creativity.  He has published several papers on the topic.  His work covers both theoretical and applied aspects of the development of creativity through board games. 
ABOUT ASMODEE RESEARCH
Asmodee Research is the research and development department of Asmodee, a world leader in the publishing and distribution of board games. It focuses on three broad areas of study: academic research, health and education. By connecting different stakeholders from the world of games, investing in research and development and helping professionals use games more effectively in their practices, it intends to shape a new, more inclusive view of board games.
1:00 PM – 1:15 PM
SPIELEN MACHT SCHULE – LEARNING PLAYFUL (GERMAN)
People who play learn more easily - even at school. That's why the ZNL TransferZentrum für Neurowissenschaften und Lernen (Transfer Center for Neuroscience and Learning) and the association Mehr Zeit für Kinder (More Time for Children) have launched the "Spielen macht Schule" initiative. Each year, schools can apply for one of 200 playrooms with pedagogically tested toys as part of a nationwide competition. The aim of the project is to reintroduce children to classic games in times of increased screen consumption and to make it easier for them to learn, because playing makes you smart!
ABOUT MEHR ZEIT FÜR KINDER
MORE TIME FOR CHILDREN - from the very beginning, the name of the association was and still is the program. In an increasingly performance-oriented society, the association wants to encourage and promote child-friendly behavior in everyday life. It works with teachers, educators, institutions, and ministries, as well as with partners from business and science.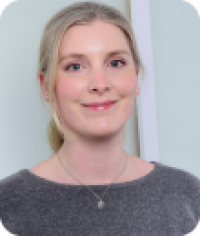 ANETTE ZANDER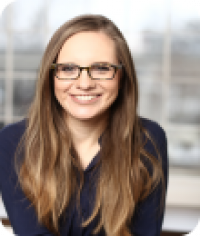 SOPHIA BUB


1:20 PM - 1:45 PM
"WHAT'S PLAYING?" – UNDERSTANDING CLASSROOM SITUATIONS FROM A PLAYFUL PERSPECTIVE (GERMAN)
Sometimes you stand there in class, rubbing your eyes and asking, "What's being played?" While part of the student body is already overwhelmed with the very small-scale introduction of a topic, the second half has been bored for a long time and is loudly preoccupied with completely different topics. After just a few minutes, the attention of the group drops dramatically, and it is almost impossible to think of working on the content. For the responsible teachers, but also for the students, these situations are often only limited fun.
With the help of the world of board games and Playristics©, Playful Insight opens up a new perspective to better understand and shape such situations. What rules provide the framework? Which rules are explicit, which are only implicit? How can play be made attractive again for everyone? Using classroom situations as examples, the world is rediscovered through the lens of game designers.
ABOUT PLAYFUL INSIGHTS
Playful Insights loves to play and is convinced that a playful attitude is important to remain capable of acting in complex situations with limited information. With Playful Facilitation, they empower people and organizations to shape tomorrow's world in creative and surprising ways.
DANIEL BARTSCHAT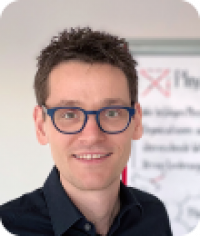 DR. SEBASTIAN SCHWÄGELE
2:15 PM - 2:45 PM
PERSPECTIVES IN PLAY: BOARDGAMES THAT BRING FOREIGN POLICY TO LIFE (GERMAN)
life  In the project "Perspectives in Play", funded by the German Federal Foreign Office, students of the Industrial Design program at the University of Wuppertal developed a collection of board games in which each game makes it possible to experience a different aspect of EU foreign policy through a suitable game mechanic. In the panel, the project will be presented from different perspectives.
Among other things, the Office of Foreign Policy in Germany will give an insight into the significance of the project for foreign policy in Germany, participants from the university will talk about the development of the games and how the project is integrated into the degree program, and there will be practical examples of how the game collection has been used in the field.
PROF. DR.-ING. FABIAN HEMMERT
Bergische Universität Wuppertal
Head of Department "Industrial Design"
JANA HORST, B. A.
Bergische Universität Wuppertal
Entwicklerin des Spiels "Contact"
MIRKO KRUPPA
Auswärtiges Amt Head of the Citizens' Dialogue and Public Relations Division, Germany: Foreign Policy in Germany  Jana Horst, B. A.  Bergische Universität Wuppertal Designer of the game "Contact"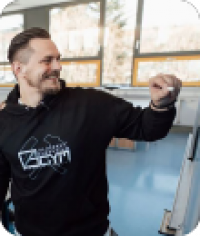 PATRICK WEISS
Glückauf-Gymnasium Dippoldiswalde Teacher, used "Perspectives in Play" in lessons


3:15 PM - 3:45 PM
RESULT ORIENTED, DIDACTIC USE OF PEN & PAPER ROLE-PLAYING - SOCIAL, LINGUISTIC AND CONTENT LEARNING. (GERMAN)

Pen & paper role-playing games are suitable for use in schools but must be adapted to school requirements or specially developed for this purpose. Thanks to the combination of cooperative storytelling and board games, players discover and create fantastic worlds from the perspective of characters they create themselves. The games promote concentration, cooperation, communication, and problem-solving skills in an interactive setting. EduTale explains role-playing games as a method for training and reflecting on group work, but also for developing subject content and training linguistic and written language skills. It is about playful adventures as a goal-oriented method in school, therapy, corporate coaching, or family learning settings.     
In addition, she talks about her first own role-playing game Adventure in the Fairy Tale Forest, a beginner's game adapted to the curriculum for the subject German. It has been tested in school classes and can be used for training and reflecting on group work. It is suitable for whole classes and small groups. 
ABOUT EDUTALE
Since 2020, teacher and learning therapist Kathrin Fischer has been using pen & paper role-playing games as a method in education and therapy with EduTale. She offers consulting, trainings, project days and weeks as well as game development for the use of pen-&-paper role-playing for professionals in education and therapy.

Kevin Jedamzik is a rehab educator and has been roleplaying for over 20 years. At System Matters Publishing House, he works on various projects and accompanies the EduTale role-playing game "Abenteuer im Märchenwald" as an editor.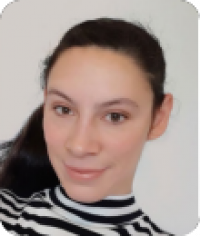 KATHRIN FISCHER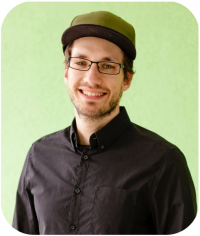 KEVIN JEDAMZIK
4:15 PM - 4:45 PM
DON'T MAKE IT EDUCATIONAL! - HOW TO KEEP GAMES FUN AND FOSTERING AND HOW TO IDENTIFY THOSE GAMES. (ENGLISH)

Correctly assessing what boardgame relevant skills children have at what age is undoubtedly a challenging task, not to mention the vast diversity even within the same age group. Nonetheless, it is crucial for proper game development and selection. Games that are introduced to children who are not of the appropriate age rarely get a second "off label" chance to shine. Similarly, a game designed for younger children but requiring skills beyond their abilities simply won't work at all. Often, it is the small things that determine whether a game bores children, overwhelms them, or perfectly challenges them, allowing for enjoyment and learning. While some of these aspects may be complex, many are straightforward and enlightening. This talk will focus on the latter. It is not tailored for game editors though, but for anyone interested in enhancing their consumer competence, enabling them to identify whether a game is unsuitable for an age group or holds the potential for fun and fostering.
ABOUT JAN-DAVID FREUND (HABA)
After his studies in psychology, he earned his PhD in developmental psychology with research on child development and quality of learning environments. Since 2019, he works as advisor on educational and psychological matters for the HABA FAMILYGROUP from product development to communication.
DR. JAN-DAVID FREUND


5:15 PM - 5:45 PM
MENTAL HEALTH AND GAMING (ENGLISH)

Board games provide many things that we are used to: Entertainment, strategy, and a time to enjoy friends, family and even yourself. However, what if playing board games can provide a positive impact on mental health! In this enhanced interactive workshop, you will not only talk about how board gaming can be used as a tool for mental health and wellness in our community but be active as well. 
ABOUT LYDIA-RAE WEHMEYER
With over 7+ years of experience in teaching in diverse student populations, Lydia-Rae Wehmeyer has planted her roots in many areas as a conference speaker in the board gaming community leading workshops and building educational curriculum for gamification in learning spaces. In addition, Lydia-Rae is a cultural consultant for several companies advocating for mental health and accessibility and inclusion in the board gaming industry.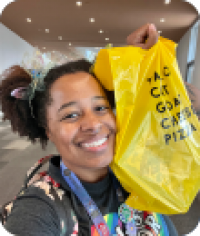 LYDIA-RAE WEHMEYER