WELCOME TO THE PRESS AREA OF SPIEL ESSEN.
Here you will find press information about our fair as well as downloads of picture material and logos. You can register for our media mailing list and get accredited for SPIEL. All information about our press conference, the novelties show, services on site and contact persons for all inquiries are also bundled here.
Press Conference and Novelties Show
For accredited media there will be a press conference on Wednesday, Oct. 4th in the foyer east of Messe Essen.
It will take place from 10 am to about 11 am. After the press conference the novelties show will open for media, exhibitors and business ticket holders.
PRESS MAILING LIST
WE ARE GLAD THAT YOU ARE INTERESTED
IN RECEIVING OUR PRESS-NEWSLETTERS
With this form you can enroll for our press mailing list:
ACCREDITATION
We are happy that you want to come to SPIEL and report about us.
Under this link you can register for press-tickets for SPIEL Essen 2023:
OUR ACCREDITATION GUIDELINES:
Please note that we can only accredit media representatives who are reporting on SPIEL, events taking place during SPIEL or other content at SPIEL.
UNDER THESE CONDITIONS YOU CAN BE ACCREDITED FOR THE SPIEL:
1. You are a journalist with a valid press card of your country.
2. You are a journalist, photographer, cameraman or in a similar position and have an editorial assignment from a media that you can present to us.
3. You are active in the board game world as a content creator, blogger, YouTuber, Instagramer or publish on other online portals regularly and with a certain reach on the topic of board games.
WE REVIEW ALL ACCREDITATION REQUESTS AND RESERVE THE RIGHT TO DECLINE REQUESTS.
DOWNLOADS
HERE YOU CAN FIND DOWNLOADS OF LOGOS AND IMAGES
CONTACT
WE ARE HERE FOR ALL PRESS INQUIRIES.
If you have any further questions about SPIEL, need more information about an announcement or would like to contact us in any other way, please feel free to get in touch with our press contact.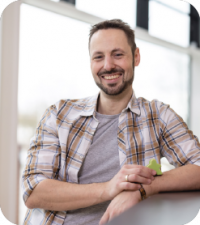 ROBIN DE CLEUR
Director Communications
+49 151 74454565