TEST TOMORROW'S HITS TODAY!
New games are in abundance at SPIEL Essen. And even games that haven't even been released yet. At our prototype gallery, you can discover unreleased titles from up-and-coming designers and even test them with the inventors themselves.
The Prototype Gallery is in hall 4 booth F106.
AMONG OTHERS, THESE DESIGNERS WILL BE PRESENT WITH THEIR PROTOTYPES AT SPIEL ESSEN.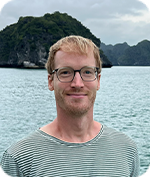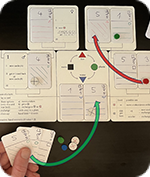 Andreas Hagemeister
Over the course of the game, form an ancestral table in which each card represents an ancestor of a legendary figure. Pay attention to the interplay of the four elements and cleverly form patterns to strengthen the effects of your cards. However, find the right balance to achieve lasting success. Also, don't lose sight of the actions of your fellow players, or your card luck will worsen. The player who convinces with his collected ancestral lines at the end wins the game.
APEX-Ideenschmiede
We are a flexible developer team from Germany that loves a challenge and is mainly dedicated to challenging board games and pen & paper role-playing games. Together we create new ideas and lots of entertainment - all from one source. We will bring a colorful collection of 5 different prototypes, all of which you can try out with us. From cooperative Dungencrawler to competitive Legespiel, there's something for everyone. We are looking forward to seeing you!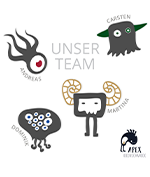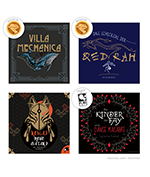 Emil Serban
Limitless Chess represents an outside-the-box game that starts from the FIDE rules, but significantly changes with the introduction of limitless chess assets (LCAs), which provide key advantages. The players obtain LCAs based on randomly selected cards. The introduction of LCAs creates almost infinite opportunities, players having to adjust the strategy to the opponent's additional resources inserted on the board.
The game is intuitive as the objective is to checkmate the adversary.
Heribert Thomas
Here's your chance to be your own boss, run your design firm! Conquer challenges, unlock opportunities, and shape the creative world. Can you thrive and stay ahead in the face of competition? Starting a company is easy, making it profitable that's the hard part. That's the Bottomline!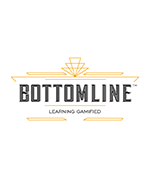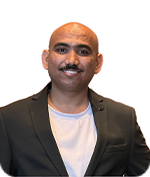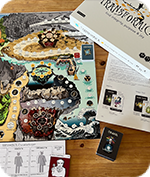 Jochen Messner – five4success
The adventurous roller coaster ride through fantastic worlds to your true self makes this game a deep psychological wolf in the sheep's clothing of a party game.
With 2-6 players, experience the magic of your hero's journey through a land of inexhaustible possibilities that brings to light your greatest fears as well as your noblest treasures.
An entirely new board game approach for education, coaching, therapy or simply as an immersive Eurogame board game.
Jana Lorenz
This adventurous tile-matching game takes you into a universe with strange planets, helpful space inhabitants, and of course, the LEGENDARY SPACE FISH!
You are part of the fishy crew and explore the mysterious expanses of space in teams of two. Not only will you have to prove your teamwork skills, but you will also have to brave dangers such as the dreaded Sushi Planet. A glorious entry in the book of eternal fish honor awaits the winning team!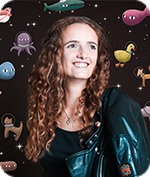 Joel Kniffler
Skilltree is a colorful and chaotic board game about the rule of a weird world. Combine over 20 skill trees such as Cooking, Voodoo, Light and Co. to 484 different spell classes and skill for your life! The one who casts spells well, solves funny quest tasks and blows up monsters wins! By Joel Müseler aka 1_kniffler.raetsel.spiele: passionate puzzle, book and game author.
Marcel Oelschlaeger
Overcome gravity and balance through funny situations.
Batouu is like Tetris in 3D or Jenga standing on your head. While you stack, the most absurd things happen. Whether with kids or as a party game, the flexible rules make this game more versatile than a chameleon at the disco.
Life is a shaky affair, but we want to go higher! Brick by brick we defeat the gravity of life.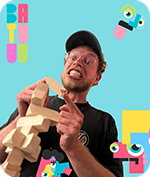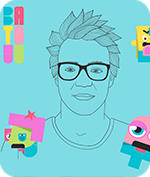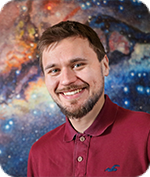 Maximilian N. Günther
Hi! I'm Max, ESA astrophysicist, and I have two game ideas with me:
1) My Little Astronaut (1-6 players, 6+ yrs, 20 min) is an educational, semi-cooperative kids and puzzle game where you send your astronauts on missions and fill colorful patterns together.
2) eXo (1-6 players, 12+ years, 90 min.) is a light-hearted "4X" family game full of quirky space exploration, technologies, and alliances. You like Twilight Imperium but your friends prefer Munchkin? Try eXo!
Michal Jex
Michal, a mathematical physicist at CTU in Prague and Lena, a PhD student at DKFZ in Heidelberg met and came up with the board game idea during the Lindau Nobel Laureate days. In the game Sci-me!, you build up your own scientific laboratory using time, money, and knowledge. The ultimate goal is to collect findings and publish your scientific results. We want to convey key mechanics from the world of science in a playful way in order to pave the way for interest and acceptance in this field.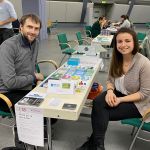 Morten Zimmermann
I love dinosaurs. I love fantasy. So I took both and made a strategic resource management game out of it and called it SAURCERY. Half silly and half badass, but I'll let you decide. I'm looking forward to a testgame with you.
Nicholas Kraus
Akkad is an intense strategy game of glory and conquest themed around the Akkadian Empire in ancient Mesopotamia. To claim victory, players will need to develop their cities, expand their territory, collect resources, train armies, build canals and temples, battle monsters, and defeat other players. Akkad is based on the historic events of the Akkadian Empire and draws upon the art and culture of period. The game was created by Nicholas Kraus who has a PhD in ancient Mesopotamian civilizations.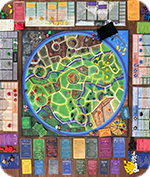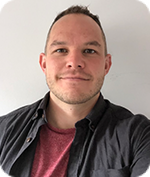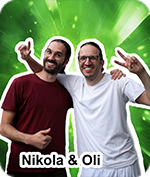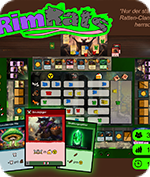 Oliver Stadie
We, Oli and Nikola, are two passionate board gamers from Berlin. We have the game RimRats with us.
Only the strongest rat clan will rule! Follow the call of the prophet into the dark world of 'RimRats'! Take over the leadership of a mutating rat clan! Use clever deckbuilding and strategic map control to lead your swarms. Only one clan will fulfill the prophecy and dominate all others. Join the battle for dominance!
Vincent Bonnier
Power City Arena is a confrontation board game with deck building mechanics, in the theme of super heroes. In this game you will control a super heroes team made up of characters with unique abilities and powers. Your goal will be to defeat other players by using your devastating super powers, but beware of counter attacks and possible turnaround!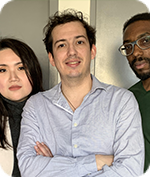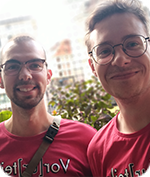 Vorurteile Games
"Every prejudice can also be your advantage!" A secret nationality, a trip around the world, a bunch of prejudices that you can use to your own advantage or against others, and a lot of fun! But beware, your actions can also harm the environment and eventually even lead to Armageddon, or "Game Over" for everyone.